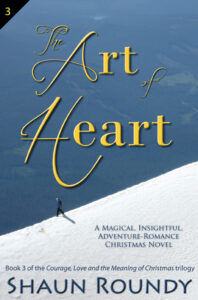 Book three of the Courage, Love and the Meaning of Christmas series is finally complete! I finished writing it Saturday night, November 17, 2012 and it went live on Amazon.com Kindle Sunday morning. The print edition is also available now.
The original title was announced as "A Fall from Heaven," but as the story came together, The Art of Heart fit so much better.
The Art of Heart brings an exciting and adventurous conclusion to Spencer's 3-year quest for love, meaning, and happiness. A few days before Christmas, he gets a phone call that will change his life. The next day, he catches a plane to join an expedition up the tallest mountain in the continental US, but that's not why he goes. He goes because, for the first time in a long time, he may get another shot at happiness. He goes because even a long shot is better than no shot at all. 
After a brand new series of ups and downs (literally this time), all the pieces fall into place. Never give up. From the highest of highs to the lowest lows, there is always hope.
Just like books 1 and 2, plenty of surprises, deep and useful insights-made-simple, lively dialogue, and engaging character arcs carry the reader through the story from the first paragraph to the engaging conclusion.